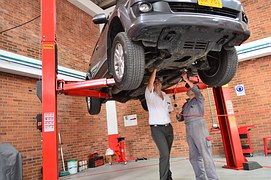 August 12, 2016 12:38 am
If you are thinking about doing your own car repairs in an effort to slash your repair bills, more power to you. However, not ever repair issue that you may encounter with your vehicle is going to be one that you should handle yourself. Some car repairs are better off in the hands of your local Nashville mechanic. We know how important it is for your vehicle to be in great shape for the road. To help keep you from getting in over your head, here are a couple of car repairs that you should let your local auto mechanics take care of.
Electrical Problems
Electrical issues can leave your car running like it's possessed. Your wiper blades may come on randomly, lights may dim for no reason at all or your vehicle may exhibit some other type of weird behaviors. Car electrical issues can be very challenging for you to pinpoint on your own, especially if you don't have the knowledge, right tools and time. With tons of electrical wiring, connectors and sensors, it is best for you to bring your vehicle into a shop to the heart of the problem and to get it fixed properly.
Windshield Damage

Don't ever assume that just because your windshield has a crack or chip in it that it is okay. The windshield is a part of your vehicle's safety system and it what you see the road through. When it is chipped, cracked and broken, it is more likely to break and shatter if you are ever involved in a minor or major car accident. Your visibility can be reduced as well. Most insurance companies provide coverage for windshield repairs. If yours doesn't, relax. You're only looking at a couple hundred dollars to get it fixed so you can enjoy the full extent of your vehicle's protection while improving your visibility.
When you are taking your vehicle into a local auto repair shop near you in Tennessee, make sure that the mechanics who will be working on your vehicle are ASE certified. You want your car to run at its best. You can ensure that it does by taking it to the best.
For more auto repair advice or to speak with one of our expert ASE certified technicians, contact Rivergate Muffler Complete Auto Repair today!
Categorised in: Blog
This post was written by RivergateMuffler