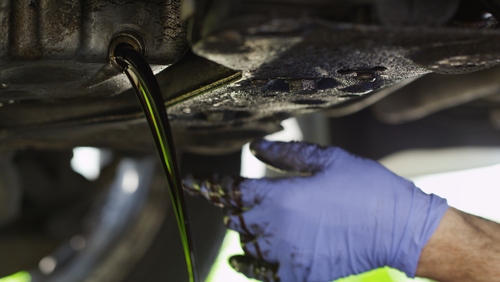 Have you ever heard the sound of an engine that's run out of oil? It's about as gut wrenching as the burning smell that accompanies it. While this is not a common occurrence, neglecting to care for the engine of your vehicle with regular topping off and changing of the motor oil is vitally important. The application of engine lubricant and fresh oil and air filters is key to a properly functioning engine as well. Without the lubrication of motor oil within the moving parts of an automotive engine, those parts can seize, cause severe destruction to the engine.
Over time, an engine may develop oil leaks which cause your engine to be particularly vulnerable to this fate. Having your vehicle in for lube, filter, or oil change service every 3,000 miles is essential. Pro tip: having this service regularly performed by a professional automotive care center is the best way to guard against undetected leaks that can spell big trouble for your engine down the road.
At Rivergate Muffler & Auto Repair, we've got your back! Not only do we provide full automotive care and maintenance work like a filter or oil change service, we will also let you know about any trouble spots we discover along the way. What's the best way to save on automotive repairs? Preventing them from happening! We pride ourselves on bringing you excellent automotive care at affordable prices. Why pay astronomical dealership fees if you don't have to? Rivergate Muffler & Auto Repair can take care of all your automotive maintenance, diagnostic and repair needs. To schedule an appointment for an oil change service, auto maintenance, or timing belt replacement the next time you're in Madison or Nashville, TN, contact us or call (615) 851-2702.