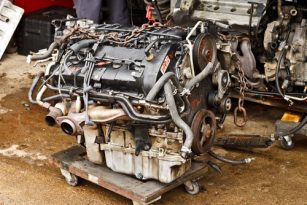 Engine maintenance plays a critical role in the care and upkeep of your truck or car. A properly running engine provides peak performance for your vehicle and impacts the overall lifespan of your vehicle's engine. Here at Rivergate Muffler & Auto Repair customers can trust our expert technicians and specialists to help protect your vehicle and your investment and to deliver top of the line preventive maintenance services to aid in the longevity of your car's engine. From engine repairs to a full engine replacement, Rivergate Muffler & Auto Repair is your one-top-shop for all things automotive.
---
Engine Maintenance Issues
Though preventive maintenance is critical to the longevity of your vehicle's engine, much like other auto parts and component, your car's engine is not built to last forever. From fuel injection, and ignition services, to cylinder head, timing belt, and spark plug services, there is a wide range of preventive maintenance services that should be performed in order to extend the life expectancy of the engine and present with optimum performance. However, over time, even with regular scheduled preventive maintenance you may find your vehicle is in need of an engine replacement.
Quality Services at Affordable Prices
We here at Rivergate Muffler & Auto Repair fully understand the concern and frustration that comes into play when unsuspecting automotive problems arise. Besides the potential of being remarkably costly, being without your car or truck can certainly present with a major inconvenience to everyone. With that said, our fully licensed and certified technicians and mechanics are available to provide all your required auto repairs, as well as complete engine replacements, in timelines that meet customer demands and at affordable prices as well.
---
Recognized for our state-of-the-art quality services and products and for our superior customer satisfaction ranking, the team here at Rivergate Muffler & Auto Repair is committed and dedicated to delivering a wide range of auto repair services that are truly unmatched in the marketplace.
Whether you are in need of preventive engine maintenance or a complete engine replacement, rest assured you can be certain you are in good hands with our highly skilled and experienced technicians, mechanics and specialists. To have your engine repaired, maintained or replaced reach out to the experts here at Rivergate Muffler & Auto Repair today. Contact us and call the next time you're in Madison or Nashville, TN for replacements, exhaust manifold repairs, or fuel system services.