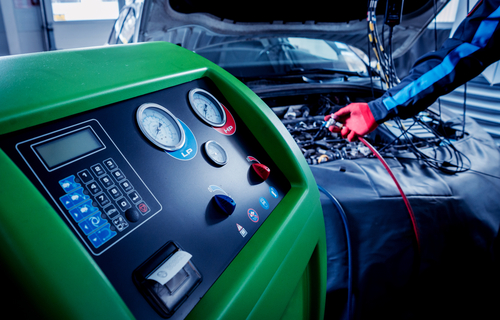 Tennessee summers can get pretty hot. Without properly functioning air conditioning in your vehicle, it can quickly become unbearable. That's just one of the reasons regularly servicing the A/C in your vehicle is important. The coolant within the A/C also serves to lubricate and cool the parts in the air conditioner. In time, after a certain amount of coolant has seeped out, your air conditioner may still cool sufficiently, but the parts are not receiving the same lubrication as before, causing increased wear. Servicing the A/C with fresh coolant also eliminates the buildup of corrosion that can cause expensive leaks.
A/C not as cool as before, or making odd sounds when it turns on? Remember, bringing your vehicle in for repair at the first signs of trouble, as well as regular AC maintenance will not only keep you cool and comfortable, but save you money.
At Rivergate Muffler & Auto Repair, we pride ourselves on bringing you excellent automotive care at affordable prices. Why pay astronomical dealership fees if you don't have to? Rivergate Muffler & Auto Repair can take care of all your automotive maintenance, diagnostic and repair needs. To schedule an air conditioning, alignment, or cooling system service appointment the next time you're in Madison or Nashville, TN, contact us and call (615) 851-2702.