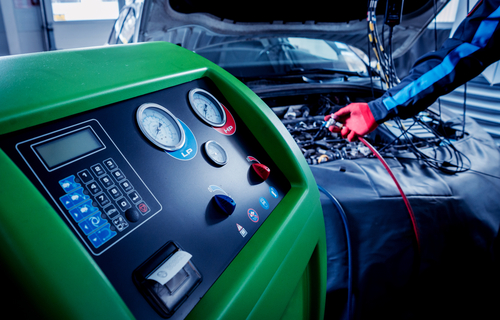 If you're in Madison, TN and your car's air conditioning system is in need of repair, Rivergate Muffler & Auto Repair can help. Our team of experienced technicians is skilled in diagnosing and repairing air conditioning issues in all types of vehicles.
We understand that a malfunctioning air conditioning system can be uncomfortable, especially during hot summer months. That's why we offer a wide range of automotive air conditioning repair services to get you back to driving in comfort. Our services include:
A/C system diagnosis and repair
A/C compressor replacement
A/C condenser replacement
A/C hose and line repair
A/C refrigerant recharge
A/C leak detection and repair
Our team uses the latest diagnostic equipment and tools to quickly identify the root cause of your A/C issues. We then work to repair the issue in a timely and efficient manner to get you back on the road as soon as possible.
At Rivergate Muffler & Auto Repair, we pride ourselves on providing high-quality service and transparent communication with our customers. We will never perform repairs without your approval or try to upsell unnecessary services.
Don't let a malfunctioning A/C system keep you uncomfortable while driving. Contact us today to schedule an appointment with one of our experienced technicians and get your A/C system repaired quickly and effectively.