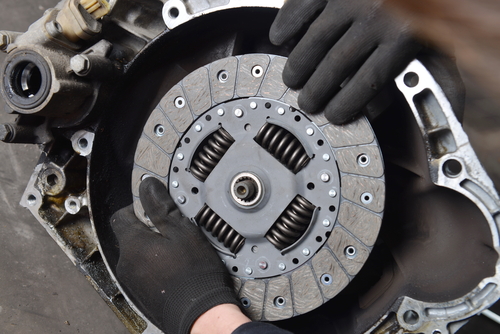 Are you looking for a clutch repair shop in Madison, TN? If so, contact Rivergate Muffler & Auto Repair today for expert clutch repair and replacement services today!
A slipping clutch can be extremely dangerous. You never know what kind of driving condition you may be in when it when it fails. Hills and passing are suddenly difficult, with your vehicle struggling to provide the performance you regularly ask of it. As the clutch slips, it becomes hotter and wears faster. This speeds the need for clutch replacement, and can also result in damage to the flywheel and pressure plate. Oil contamination from a leaking rear main crankshaft seal, transmission input shaft seal or engine oil leak are all additional causes of premature clutch failure. The problem may not be due to the clutch itself, but to the clutch linkage or another issue, such as seal leaks.
Let Rivergate Muffler & Auto Repair help with all your clutch repair needs! We pride ourselves on bringing you excellent automotive care at affordable prices. Why pay astronomical dealership fees if you don't have to? Rivergate Muffler & Auto Repair can take care of all your automotive maintenance, diagnostic and repair needs. To schedule an appointment for your clutch, computer diagnostics, or differential repairs the next time you're in Madison or Nashville, TN, contact us and call (615) 851-2702.