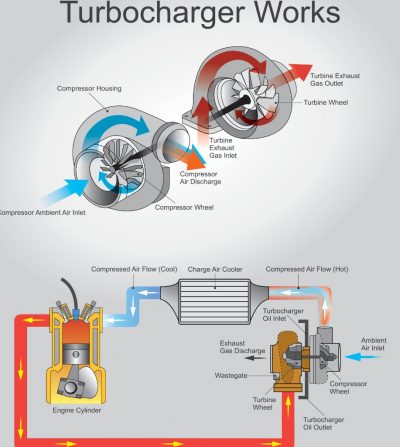 July 19, 2019 11:09 pm
Leave your thoughts
Turbochargers are very important parts of combustion engines, so when they fail, you're going to have some engine difficulties following shortly thereafter. For this reason, it's crucial that you keep your turbochargers functioning properly. If you understand why turbochargers fail in the first place, you'll be able to be more effective in preventing those failures.
Here are just a few examples from a mechanic in Madison, TN about why turbochargers fail.
Oil contamination
If the engine oil gets contaminated with debris or foreign particles, you could start to notice some issues with the function of the oil and the turbocharger. When particles get lodged in the turbocharger, they could cause some scratching or scoring.
Oil contamination often occurs as a result of poor-quality filters or filters that have not been changed in frequent enough intervals. After the filter is damaged, it won't be able to prevent those contaminants from going through the engine system and lodging themselves in place like the turbochargers. Stay on top of your filter changes and oil maintenance!
Oil starvation
A lack of engine lubrication or problems with that lubrication can also cause turbochargers to fail, and is in fact the most common reason why they do. Your engine oil is your vehicle's life blood, and it will maintain the functionality of the main shaft assembly, where the turbine wheels and turbo compressor are located. If the system is not properly lubricated, there can be excessive heat buildup, which can quickly result in damage to the turbocharger.
Therefore, it's crucial to stay on top of your oil changes. A failure to do so could cause oil starvation and overheating that can be catastrophic to a variety of components in your engine.
Foreign objects
Small debris and matter that gets into the oil can do some damage if it gets into the turbocharger, but there are other, larger foreign objects that might also work their way into the system. There are sizable openings through which these foreign objects—including sticks, leaves, rocks and other types of debris—may be able to enter. If this happens, the seals and bearings of the turbocharger could be damaged, resulting in them needing to be replaced. Failure to make those replacements could result in even more significant turbocharger-related issues.
Clogged breathing functionality
Some vehicles might have a clogged engine breather system. This check valve allows some high-pressure gases that come from the crankcase to easily pass through in a manner that is highly controlled. But if it gets clogged up, this will create an increase in pressure inside the system, while flow gets restricted. As a result, pressure will also increase in the turbocharger system, which could result in it being overloaded with oil. This is most often an issue when a new turbocharger gets fitted to an engine.
For more information about some of the most common causes of turbocharger failure and what you can do to avoid or fix them, contact an experienced mechanic in Madison, TN at Rivergate Muffler & Auto Repair today.
Categorised in: Mechanic
This post was written by Writer