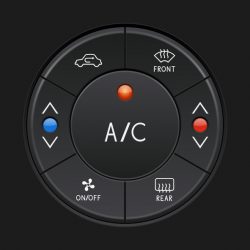 March 19, 2019 12:12 am
Leave your thoughts
While it may not feel like it yet, spring is definitely on its way. But with the warmer months comes the maintenance to-do lists of all those maintenance tasks that you couldn't do in the winter. If your spring to-do list doesn't include getting your car's AC serviced, it should.
Spring is the perfect time to get your auto AC maintenance in Madison, TN. After not using it for months and with the heat of the summer just around the corner, spring is the right time to make sure your AC is in working order. The question is, where should you go for auto AC servicing in Madison, TN? Here's a few things you should look for.
One-stop shop
Chances are you will need more than just your AC maintenance after a long winter. When looking for a mechanic to take care of your AC system, you should also look for a mechanic that offers repairs on other parts of your vehicle, such as the engine, transmission and electrical systems. You don't want to wait until you are on the road for summer vacation to find out that something is wrong with your car. A good, comprehensive mechanic will be able to identify other potential problems when you bring your car in for AC maintenance.
Leak test
Refrigerant can be very expensive, so if your AC system has a leak and the mechanic adds more refrigerant, it's like pouring money down the drain—literally. A good mechanic understands the importance of doing a leak test and will offer this service before charging. If there's no problem, why should you have to pay?
Valve replacement
Many refrigeration compressors incorporate a suction service valve and a discharge service valve. These valves allow refrigeration gauges to be attached to the system and isolate the compressor from the rest of the system. Their main purpose is to help prevent refrigerant leaks. A valve is easy to work with, especially when already working in the system. A quality mechanic shop will replace the service valves to prevent expensive refrigerant from leaking.
Dryer kit
Finally, a good mechanic will also replace the dryer kit. When working in the AC system, it's possible for the material inside the dryer kit that helps keep moisture out of the system to become saturated when exposed to the humidity in the air. When this happens, the moisture in the system can cause corrosion and worse. A mechanic who knows what he is doing will be sure to replace the dryer kit when servicing the AC system.
If you need to get auto AC servicing in Madison, TN this spring, be sure to go with a mechanic that offers a full service package, including a leak test, valve replacement and a new dryer kit. At Rivergate Muffler & Auto Repair, we offer all of these services and more. To schedule your AC service with us or to get an estimate, just give us a call today. We look forward to assisting you soon!
Categorised in: Auto AC Service
This post was written by Writer