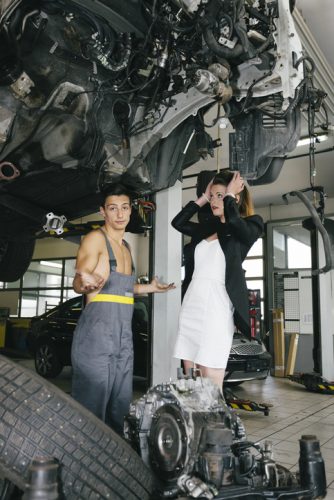 January 17, 2019 10:48 pm
Leave your thoughts
You go to your quick lube station because you're having troubles with your vehicle, and one of the technicians tells you that the problem is a leak in your oil pain or crankshaft seal. If you don't know much about cars, you'll likely be satisfied with this explanation and pay for the repair.
What you might not realize, however, is that the leak typically actually starts somewhere higher up, such as a valve cover. But because most of the time spent by technicians at a quick lube shop is underneath the vehicle, the oil pan is what they're going to be spending most of their time looking at, making it likely that they'll think that's the root of the problem.
This is just one example of why it's so important to make sure you always get a second opinion from a skilled mechanic in Madison, TN when there's something potentially wrong with your vehicle.
Here are a few of the reasons why you should make getting second opinions part of your regular approach to getting car repairs, especially if the first opinion came from a quick lube shop.
Save some cash
It's always going to be more convenient and cost-effective to know for sure what the problem with your vehicle is before you get it repaired. Ensuring you know exactly what's wrong with your vehicle will prevent you from spending money on repairs that don't actually solve the problem, cutting out a lot of unnecessary expense.
This often becomes a big issue with collision repair. You might get an estimate to repair a vehicle that was damaged in an accident and find the estimate you receive seems rather out of line with what you were expecting. It's always better to get a second opinion from a reputable mechanic than it is to just shell out the money right away when you're uncertain about the work you'll be getting done on your vehicle.
Address the correct issue
Fixing the right problem doesn't just save you a lot of money—it also prevents you from having to deal with any safety hazards that could arise from not fixing the right problem in your vehicle. It's unfortunate, but not every quick lube shop or dealer is going to have technicians who are capable of making the correct diagnosis, which could mean you face some significant safety issues if you drive the vehicle off their lot.
You should always go to an experienced mechanic who is licensed, insured and certified whenever you have important car-related issues to take care of. This ensures your time won't be wasted and you'll come away with a vehicle that is actually reliable and safe to drive.
Peace of mind
Even if the second opinion ends up being the same as the first, it's still worthwhile because it will give you a lot of peace of mind. You won't have the feeling of "what if the diagnosis was wrong?" that you might have if you just listened to the first opinion given to you. Plus, you'll be able to get a second estimate of the cost of the repair.
For more information about the importance of second opinions when repairing vehicles, contact Rivergate Muffler & Auto Repair or visit our auto repair shop in Madison, TN.
Categorised in: Auto Repair Shop
This post was written by Writer