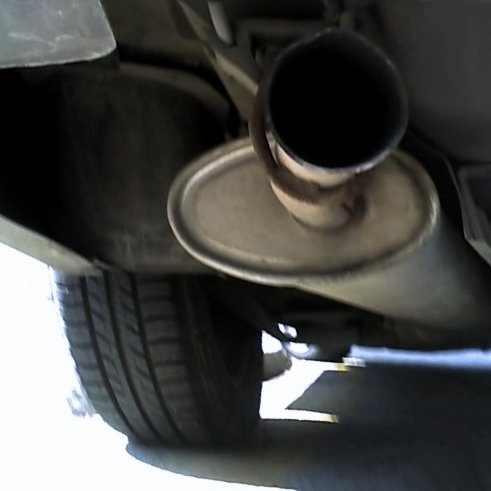 October 26, 2016 10:49 am
A broken muffler can be a very annoying thing. If your muffler is broken or damaged it will cause your car to have a much louder sound than prior to its damage. If you are noticing a thumping sound, then this is typically an indication that some part within your exhaust system is severely damaged or broken. There are a variety of different types of mufflers installed on vehicles of all types with some of them equipped with baffles that serve to reduce the noise level of your vehicle's exhaust system. These baffles can also break or become loose, which will result in a rattling sound in your muffler. Regardless of what the source of your muffler loud noise may be, it requires your attention sooner rather than later.
The muffler on your vehicle is a very important component of your engine's overall exhaust system. With the muffler located in the middle section or back section of the exhaust, its primary purpose is to reduce the noise that is produced by the exhaust process itself. In addition, your muffler directs the exhaust gases out of the vehicle system in a safe fashion. With this said, if you have a muffler that is either defective or broken altogether, it is sure to cause remarkable noise pollution as well as pose harmful effects to any and all passengers in the vehicle.
Problems Caused by your Broken or Defective Muffler
A defective or broken muffler can cause a whole lot of problems. To begin with, if your muffler has a hole in it, it can cause some seriously dangerous gases to leak into the vehicle, gases such as carbon monoxide. People exposed to carbon monoxide can suffer from headaches, nausea, and dizziness.
A defective or damaged muffler can also cause problems for those individuals who live within structured communities with regulations and guidelines with regard to loud noise ordinances. If your muffler is broken and producing loud noise you may find yourself faced with fines and be forced to have the muffler fixed or face additional fines until the problem is resolved.
Finally, your noisy, broken muffler can certainly spoil any vacation or long distance road trip you may embark on. The noise a broken muffler makes is extremely loud and very annoying and is sure to take away from the fun and excitement of your road trip with the consistent annoying clatter and noise. It may also potentially lead to additional automotive problems if you do not tend to the muffler issue within a practical period of time.
At Rivergate Muffler and Complete Auto Repair our technicians are highly experienced and trained in all types of vehicle repairs and that includes loud, noisy, broken mufflers. Using only state of the art equipment and some of the finest software available today, and offering prices that are every bit reasonable as they are affordable, our trained and highly skilled technicians will inspect your muffler and quickly find the source of your problem. With a simple mission statement of 100% customer satisfaction, our teams are confident that clients, whether old or new, will be completely satisfied with the level of work performed and delivered, as well as with our superior customer service and friendly teams.
If you are driving around in an annoying vehicle with a broken or defective muffler, then the time is now to reach out to our knowledgeable and highly trained team here at Rivergate Muffler and Complete Auto Repair. Let our friendly staff take care of all your muffler needs and give you back that peace of mind needed when cruising along in your vehicle knowing you are not a nuisance or disruption to anyone any longer. Contact us today and put an end to that pesky, annoying muffler problem. We so look forward to serving you and are confident our services and prices will simply not be beat.
Categorised in: Blog
This post was written by Webmaster