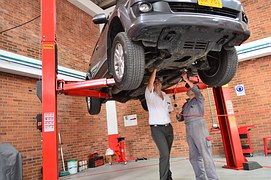 September 19, 2016 10:52 am
Unlike vehicles of the past, where we had carburetors, condensers, points, distributors and distributor caps, and rotors that either needed replacing or readjusting, today's cars are all computer controlled. The computer in today's cars controls everything from the valve timing, ignition timing and fuel delivery to the displaying of the Check Engine Light or Check Engine Soon Light, when a problem is detected. With that said, when performing a tune-up today, the only parts that can actually be replaced in the majority of cars are the spark plugs, spark plug wires, air filters, fuel filters, and the PCV valves, and certainly there are no longer parts that require setting or adjusting at all.
When to Perform a Tune Up
Today's cars require that a tune-up be performed based upon the vehicle's mileage. The vehicle's manufacturer has specific mileage based timeframes for the replacement of certain parts and the performance of varied maintenance services. The services are preventive so as to avoid car parts from failing prior to their scheduled replacement. Some of the typical maintenance tasks that should be performed at designated mileage intervals include the following:
At 3,000 miles car owners should replace the oil and oil filter, inspect the air filter and determine if it needs to be replaced, check out all fluids and top them as needed, and check your tire pressure.
At 7,500 miles it is recommended that you replace your wiper blades.
At 15,000 miles you should replace your fuel filter and replace the cabin air filter as well.
At 30,000 miles make certain you replace your automatic transmission fluid and your automatic transmission filter, have your cooling system flushed, replace the PCV valve along with your spark plugs and schedule a fuel injection and carbon clean service.
At 50,000 miles it is best to replace fluids for differentials, manual transmission, power steering, brakes and the transfer case.
At 60,000 miles replace the PCV valve, spark plugs, spark plug wires, and your timing belt.
Adhering to these mileage intervals and the recommended services rather than waiting for parts to fail can avoid poor performance, loss of gas mileage, and difficult starting issues to name a few simply by making sure you keep a regular tune-up and maintenance schedule. Why wait until your spark plugs are completely worn out and begin to misfire and create other problems. Simply change the spark plugs and perform other maintenance tasks at the appropriate mileage intervals and avoid any costly repairs or issues.
Satisfaction Guaranteed
At Rivergate Muffler and Complete Auto Repair, our licensed and certified technicians are committed and dedicated to providing top of the line automotive services and repairs to all our valued clients. With our simple mission statement of 100% customer satisfaction, our highly skilled and professional technicians strive to deliver services and products that are unmatched in the marketplace at prices that are both reasonable and affordable.
Our trained technicians and specialists are here to provide you with an automotive tune-up and all your automotive care needs and to add longevity to the lifespan of your vehicle with our state of the art services and our leading edge products. Having earned ourselves a spot at the top of the marketplace, we here at Rivergate Muffler and Complete Auto Repair remain steadfast in delivering our quality services and products day after day, client after client.
If you are in need of any type of automotive care or services, then you have surely come to the right place. Reach out to the highly experienced and friendly technicians here at Rivergate Muffler and Complete Auto Repair today and put all your automotive worries into our trusted, and very professional hands. Nobody wants to pay for costly auto repairs, which is why we specialize in providing all the preventive services your vehicle needs as well. Call us to schedule your vehicle's maintenance, repair or tune up today. You'll be glad you did!!
Categorised in: Blog
This post was written by Webmaster