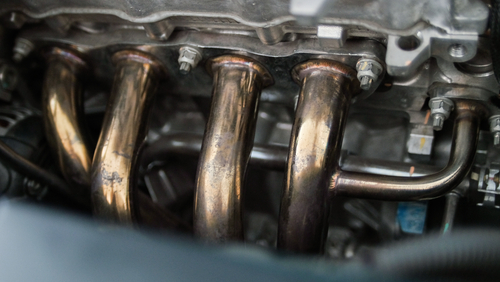 Are your friends pushing you to boost your ride with maximum flow efficiency by installing a performance exhaust header on your car? Well, if you've decided to do just that then surely you have come to the right place. Here at Rivergate Muffler & Auto Repair our experienced and fully licensed and certified auto technicians and specialists are committed and dedicated to providing all our clients with superior products and header installations for their cars and trucks.
How Does an Exhaust Header Work?
When looking to improve your engine's overall performance, a header installation is one of the easiest accessories you can perform on your engine. The purpose of the header is to simplify the process your engine goes through when pushing the exhaust gases out of your car's cylinders by eliminating the back pressure on your manifold. Rather than sharing a common manifold, each cylinder is given its own exhaust pipe which is cut and bent to the same length guaranteeing that all exhaust gases reach the collector equally spaced out. This avoids any back pressure from being generated by the cylinders which promotes more torque and power for your car's engine.
The Industry's best in Service and Customer Satisfaction
At Rivergate Muffler & Auto Repair we are proud of our quality products and services which have contributed to our highly visible presence in the marketplace. Billed as your go to repair shop for all your muffler, exhaust, manifold, header and other domestic and import car repairs in all of Middle Tennessee, our highly experienced and trained team of experts are here to provide all the insight needed when choosing your exhaust header.
Regardless of what type of headers you are looking to install, rest assured we have a full lineup of headers to choose from. While all headers typically perform the same tasks, there are surely some headers that offer higher efficiency and effectiveness and greater performance. Our specialists work alongside all our clients in searching out the products and brands that are known for excellence when it comes to manufacturing and delivering exhaust parts that are nothing less than top-performing.
If you are uncertain which headers are best suited for your vehicle, then give a shout out to our highly experienced specialists today. Rivergate Muffler & Auto Repair where our customers and their satisfaction are always our number one priority.