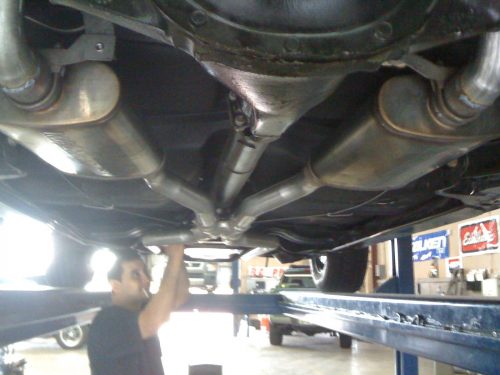 For years the skilled and highly trained technicians and mechanics here at Rivergate Muffler & Auto Repair have been offering a wide range of exhaust systems and muffler repair products for both import and domestic vehicles to drivers of every category and age group. Mufflers are certainly an important part of your vehicle, which is why it is necessary to give proper care and maintenance to your vehicle's muffler.
Our muffler shop specialists are committed to providing all our clients with the best driving experience possible. As a result of our dedication to keep all our valued clients informed about their vehicles and repair needs, Rivergate Muffler & Auto Repair has been recognized in the Middle Tennessee area as the best all round import and domestic muffler repair shop in the region.
Three Important Things to Know about your Muffler and Muffler Repair Work
First, like any other component of your car, over an extended period of time your car's muffler can require repair. Typically the biggest problem that mufflers present with is that of rust. Our expert specialists are trained to determine whether existing rust on your muffler warrants a simple repair or complete replacement of your muffler.
Secondly, there are specific signs that are indicative of potential problems with your car's muffler. Besides the presence of rust, if your car sounds much louder than normal when driving, clearly you need to get your muffler into our reputable muffler shop for our technicians to determine the primary cause of the problem and provide all the services needed.
Finally, everyone should be aware of the wide range of muffler upgrades that are available today. Varied styles, brands and designs of import and domestic mufflers offer a different level of sound absorption for your vehicle. If you are interested in upgrading your car's muffler, whether import or domestic, then talk to our muffler repair specialists today to ensure that you choose the highest performing muffler for your vehicle and driving habits.
Proud of our top-of-the-line import and domestic muffler shop repair services and all our quality repairs and products, we here at Rivergate Muffler & Auto Repair have one primary goal – to provide all our clients with the best possible driving and road experiences each time, every time. Contact us today for muffler, brake, or clutch repairs the next time you're in Madison or Nashville, TN.